Finding some easy cat food recipes can be a tremendous challenge for cat owners, especially new ones. However, we are here for you with 5 of the best healthy & easy cat food recipes.
But, confusion arises because cats usually refuse to eat the usual home meals, and of course, none of us want to see one of the family members hungry for a long time without a proper and healthy meal.
Still, don't forget that this process can be a source of great joy as well, and with all the high prices of dry food, we are glad to offer you recipes that your cat will surely love.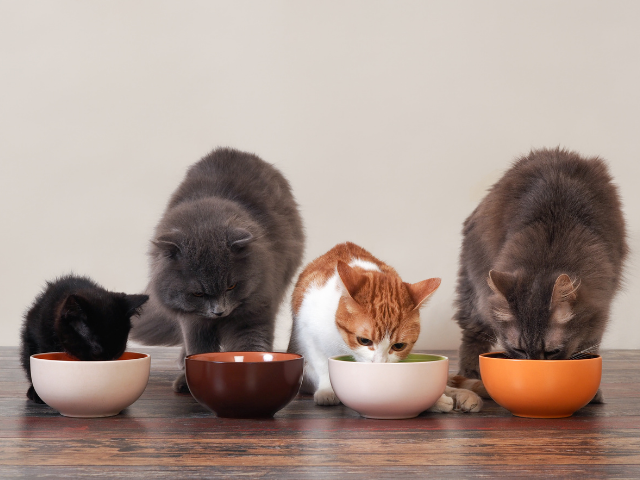 What Do Cats Eat? A Question Often Asked By Cat Owners
Some believe that cats eat bones! But, I'm afraid that's not right, as we will explain in this article.
Nevertheless, Cats' food should contain:
Protein from meat or fish
Amino acids like taurine and arginine (from meat or fish)
Fatty acids
Vitamins
Minerals
Water
Carbohydrates like rice and corn in small amounts are fine. But they aren't necessary for a cat's diet. However, a small number of carbs will provide some good energy and reduce the cost of a home-cooked diet.
Also, cats should not eat bones because that may tear their stomach wall off.
Therefore, be sure to provide high-quality cat food for your cat, whether it is a portion of home-made cat food or manufactured dry food. However, in choosing manufactured dry food, you must select high-quality products that do not harm your cat.
What Do Cats Eat From Home Food?
Preparing domestic cat food, whether for a Persian, Siamese or any other cat, requires you to be creative. So, that is why we give you a hand by revealing the best easy cat food recipes that are inexpensive and, more importantly, they are full of nutrients.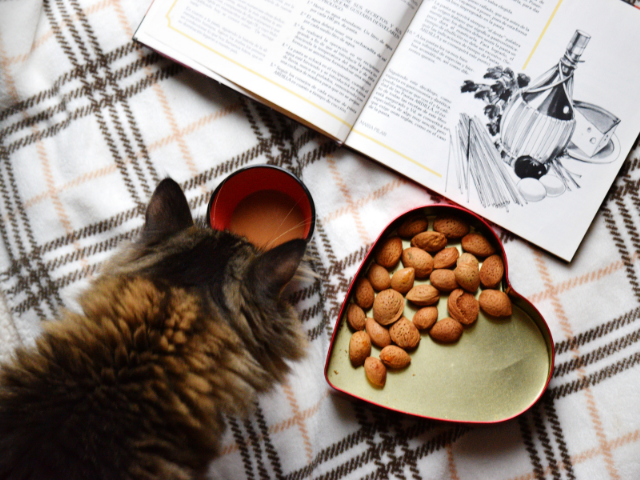 1) Kittens' Breakfast
Starting your cat's day with a healthy and delicious recipe is the best! Therefore, this leisurely breakfast is not only easy to cook but tasty too.
Ingredients:
One tablespoon skimmed milk powder (nonfat dry milk).
Three medium-size eggs.
Three tablespoons of cottage cheese.
Two tablespoons of grated vegetables.
Instructions:
Mix the milk powder with a small amount of water.
Then add eggs and mix well.
Next, pour the mixture into a small non-stick skillet and then cook over medium-low heat until soft.
Turn it over like pie and spread cheese and veggies on half of the cooked surface. Then, fold like an omelet. 
Next, cool and chop into small pieces, and that's it! You've made one of the easy cat food recipes that is ready to be served to your cat.
Are you looking for more protein for a more mature cat? Then, check the next idea in our list of easy cat food recipes.
2) A Whole Chicken Meal (Chicken Stew)
Ingredients:
One whole chicken (preferably contains no hormones or antibiotics on the label).
Two cups of brown rice.
Six stalks of celery.
Eight scrubbed but not peeled carrots.
Two or three yellow zucchini.
Two or three zucchini.
One small crown of broccoli.
A handful of green beans.
Instructions:
Start by washing the chicken, then cover it all with water in a large pan.
Then the next step is to cut the vegetables into medium-sized pieces and add them to the saucepan.
Add the brown rice. 
Then cook the mixture until the chicken (is well cooked) has almost fallen off the bone, and the vegetables become tender.
This step is essential, so begin by cutting and deboning the chicken perfectly. This is very significant, as cooked chicken bones can crack and cause health problems such as severe injury to the cat's intestine.
Now pour the stew into a blender and blend until the mixture is grainy and coarse.
Freeze in meal-sized plastic containers or bags to defrost and serve when wanted.
How about adding some supplementary food and harvesting the bones' rich contents without risking your cat's stomach? We got that for you, and look at our third idea for easy cat food recipes.
3) Chicken Breast Diet
This is one of the rich and easy cat food recipes that provides 471 calories, 53.1 g of protein, and 27.4 g of fat and is intended for a healthy cat or a kitten.
Ingredients:
1/2 pound of cooked, boneless & raw weight chicken breast.
1/2 boiled large egg (split the egg lengthwise).
1/2 ounce chopped into juice calms.
4 tsp canola oil.
1/8 tsp potassium chloride (salt substitute).
10-grain or equivalent bone meal (3 Bonemeal tablets).
Multivitamin-mineral tablet (1 tablet).
Instructions:
Begin by chopping the chicken breasts and eggs.
Then crush the bone meal and vitamin tablets completely, then mix all ingredients together.
Put the mixture in the refrigerator and heat it a little before serving it to your cat.
4) Chicken & Rice Recipe
Ingredients
1/3 pound boneless & raw weight chicken breast (cooked, then chopped)
1 hard-boiled and chopped egg
1/2 ounce chopped in juice clams
1/3 cup of cooked long-grain rice
4 tsp canola oil
1/8 tsp potassium chloride (salt substitute)
4 crushed finely bone meal tablets (10-grain or equivalent)
1 crushed finely multiple vitamin-mineral tablet
Instructions
Mix all ingredients and then serve directly or refrigerate and heat the mixture slightly before serving.
5) Yummy Tuna Recipe
Ingredients
4 ounces of canned in water tuna (canned in water without added salt)
1 hard-boiled & chopped egg
1 tbsp canola oil
2 crushed bone meal tablets (10-grain or equivalent)
1 crushed finely multiple vitamin-mineral tablet
Instructions
Combine all ingredients thoroughly, then serve quickly, or refrigerate and heat slightly before serving.
Easy Cat Food Recipes To Help Prevent Specific Health Conditions
Cats are inclined to many diseases and health conditions that harm humans. Still, a proper diet can play a significant role in managing those conditions. 
Therefore, these easy cat recipes were created by vets and nutrition specialists and are considered safe. Nevertheless, please double-check with your vet for approval before trying any recipes in all matters related to your cat's health. 
Also, your cat's health should be closely observed while cooking and serving these diets. Without any delays, let's commence with a standard and not-too-serious health condition.
1) Treats As Stool Softener
This easy recipe is to be served after 24h of the cat's failure to pass a stool. Additionally, you can serve this recipe up to twice/day. Also, you may spatter the mixture with brewer's yeast if your cat savors the taste.
Ingredients
1 tbsp (baby food) vegetables and meat (avoid onions & garlic)
1/2 tsp melted butter
1/8 tsp ground psyllium husks
1/8 tsp of powdered bran (or fine)
2 tbsp of water (modify for desired texture)
2) Easy Cat Food Recipe For Diabetes
Ingredients
1/2 cup of organic raw & ground chicken
1/2 cup of raw chicken liver
1/2 cup of cooked brown rice or oatmeal (cooked grains)
1/4 cup of raw carrots (or raw zucchini, winter squash -finely grated-, or cooked green beans)
vegetable stew or broth to moisten
Anitra Frazier says, "The purpose of this diet is to stimulate the pancreas, reduce scarring, reduce insulin requirements, stimulate insulin production, replace nutrients lost in urine or because of stress, and prevent the main complications associated with diabetes."
3) Cat Food Recipe For Chronic Renal Failure Management – Chicken And Rice Recipe
This recipe is a special diet for cats with CRF, low in protein, low phosphorus content, normal sodium, and normal potassium. However, It gives 55g of protein and 1000 kcal as mixed.
Ingredients
1/4 cup of cooked chicken breast
1/2 ounce of canned & chopped in juice clams
1/2 cup of cooked long-grain rice
1 tbsp chicken fat
1/8 tsp of potassium chloride (salt substitute)
1/4 crushed multiple vitamin-mineral tablet
1/10 B complex vitamin-trace mineral tablet
Instructions
Begin by chopping the chicken breast and then mix it with all ingredients.
4) Easy Cat Food Recipe For Cats With Allergy
This recipe is an "experiment" recipe food. It helps eliminate commonly-known food allergens, including wheat, cheese, beef, milk, nuts, eggs, tomatoes, fruits, yeast, and carrots. Suppose your cat's allergy symptoms disappear while on this diet but reappear when he goes back to his usual diet. In that case, it's a reasonably safe presumption that one or more ingredients in his everyday diet are causing the allergy.
Ingredients
2 cups of brown rice
2 pounds of ground lean lamb or mutton
4 tsp of bonemeal (or 2,4 g calcium or 1 1/3 tsp powdered egg-shell)
2 tbsp vegetable oil
Instructions
First, add 4 cups of spring water to the rice and cook it until it is boiling, then reduce the heat and simmer, covered, for 40-45 minutes.
Next, add the remaining ingredients to the rice when it is done and combine well.
Then you can, after that, freeze about 2/3 of the mix. This recipe will be enough to feed your cat for 8 to 10 days.
These were some easy cat food recipes that we've gladly given to you. Therefore, whether you are a cat owner or a cat lover, these delightful and easy cat food recipes are suitable for your cats of all kinds.
Moreover, you can add your own style or modify the ingredients a little to suit your cat's needs. But keep in mind that cats can be allergic to some foods and substances. So, try one of these easy cat food recipes to strengthen the bond between you and your cat and bon appetit!