Feeding your puppy with homemade food can be a good option since you start monitoring your dog's health more often. Feeding a small dog is not an easy task. Indeed, it is fundamental to be well informed in order to avoid nutritional deficiencies. It is essential to get advice from the veterinarian, who will offer you a specific diet depending on the breed, but this will not stop you from learning about more options.
In this article, we offer you a guide to consider when preparing your homemade dog food recipes for small dogs. Discover our 5 recipes for homemade puppy food!
1- Sweet Potatoes, Peas, And Ground Beef Recipe
This recipe is generally very popular with puppies. It is rich in vitamins A, B, and C, as well as potassium and minerals.
200 grams of cooked Beef (7 ounces of cooked Beef)
100 grams of sweet potatoes (Or 1 cup of sweet potatoes)
1 cup of cooked peas
1 tsp of Sunflower oil (You can add Walnut or Corn oil instead)
Vitamins for dogs (optional)
One of the exciting homemade dog food recipes for small dogs is this one, so make sure you cook it perfectly.
Preparation:
Prep Time: 10-15 minutes. Cook Time: 35-45 minutes
Cut the ingredients into tiny cubes, suitable for your puppy's small size.
Cook the sweet potatoes by boiling them in hot water. You can make them as mashed potatoes or in small cubes (bite-size cubes). Check the potatoes after the first 5 minutes of boiling in the hot water. Usually, the potatoes will be done in 10-20 minutes.
Of course, the sweet potatoes are ready when they are tender. You can examine this by punching the sweet potato with a fork.
In a large pot place the beef. Add just adequate water to cover. Then let it boil. After that, cover it and gently simmer until the beef is cooked. Then, remove from heat and drain the excess liquid.
You can either add fresh peas or frozen peas to the cooked beef. The heat will gently cook the peas. Or, you can cook the peas with the beef.
The next step is to add the sunflower oil then mix all of the ingredients together. Don't forget to add the vitamins to the mix if you want that for your dog as it is optional.
2-

Turkey, Rice, And Green Beans Recipe
This recipe is also very popular with small dogs and very appetizing. To prepare this, you will need:
450 grams of ground turkey (1 pound)
1 cup of chopped green beans
1 cup of chopped carrots
2 cups of brown rice
4 cups of water
1 Tbsp of fish oil
Preparation:
In a skillet, cook the ground turkey on medium heat until it is well cooked (brownish in color). Then, add to the turkey the rice and the water and let them boil. Make sure to reduce the heat to medium-low heat and let it cook for 15 minutes. After that, add the carrots and beans to the mix and let them cook for 10 minutes more. Now, the dish is ready and just let it cool first and then serve it.
3- Doggy Salmon-Omelet
The salmon-Omelet recipe is very rich in good fats and Omega 6, which are essential for your dog. It will also provide him with the hydrates it needs. To prepare this recipe, you need:
Smoked salmon
2 eggs
Diced green pepper
Olive Oil
Preparation:
Salmon is quite an unusual ingredient in dogs' diet, but very significant with its many virtues in the homemade dog food recipes for small dogs.
This recipe is made in the oven so make sure to preheat the oven to 350°. Begin by grease small oven-bowl with the olive oil. Then, add all the ingredients and stir them. After that, put the mixture into the oven and bake it for 10 minutes. Let it cool and then serve it to your dog.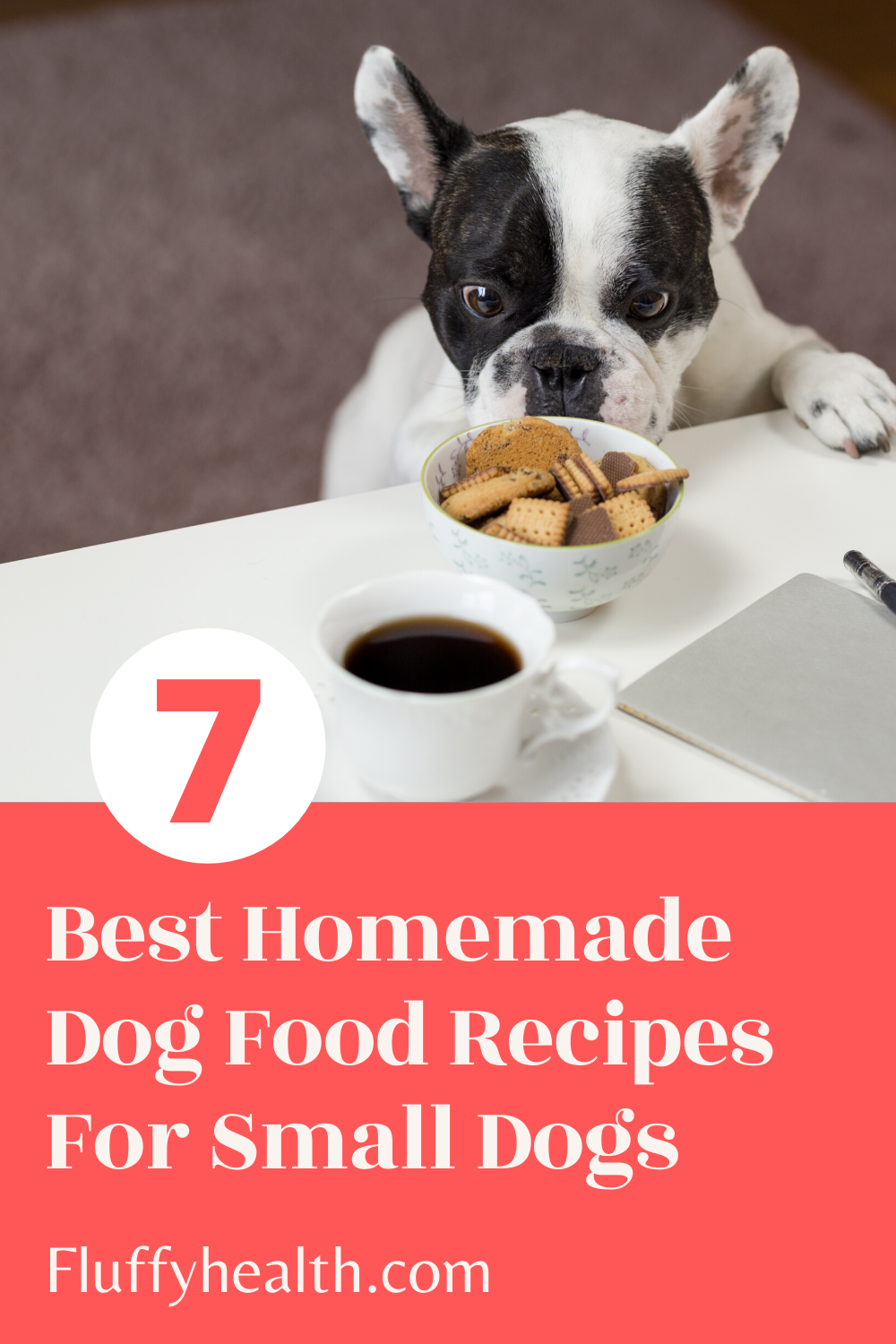 4- Apple Pupcakes
A fruity treat your dog will absolutely love. You will need:
1/2 cup of water
¼ cup of milk
2 Tbsp of honey
1/4 cup yogurt
2 Tbsp unsweetened natural apple sauce
1/2 cup f chopped apple
1 egg
1/2 cup natural creamy peanut butter
2 strips of cooked and crumbled bacon
2 cups whole wheat flour
1/2 Tbsp of baking powder
Preparation:
You start by Preheating the oven to 350° F. Use nonstick spray (aff link) to grease muffin tin (aff link) and set aside. In a large bowl, mix and whisk the egg with milk, yogurt, water, honey, and apple sauce.
Cook the bacon and set aside. In another large bowl, mix the flour and the baking powder.
Add the mixture of flour and baking powder to the other mix slowly while stir to combine. The mixture should be thick.
Soft fold in chopped apples and spread evenly. You can use a large cookie scoop (aff link) to fill prepared muffin tins (aff link). Then let it bake for 30 minutes.
Once ready, remove from the oven and let it cool in a pan for 5 minutes. Remove from muffin tin and let it cool completely on a wire rack (aff link).
"Frost" pupcakes with peanut butter and sprinkle crumbled bacon on top of each pupcake. Serve it to your dogs and let them enjoy it!
5- Beef, Vegetables, And Cottage Cheese Recipe
Ground beef is a quite usual ingredient in dogs' diet, but as always it is very vital with its many virtues in the homemade dog food recipes for small dogs. You will need:
1 kg of ground beef (2 pounds of beef)
2 eggs
3/4 cups of chopped vegetables
1 tbsp of ground-up flax seeds
1 ½ cups of oatmeal
½ cup of cottage cheese
Preparation:
Preheat the oven to 350° F. Mix and whisk all the ingredients together in a large mixing bowl and then use nonstick spray (aff link) to grease the meatloaf pan. Add the mix into the pan and then bake it for 35-45 minutes.
6- Doggy Yogurt-Berries With Apple Sauce Recipe 
Another fruity treat for your dog to enjoy the sweet treat!
½ cup of chopped blueberries
½ cup of chopped strawberries
½ cup of apple sauce
½ cup of yogurt
Preparation:
This is the easiest of our homemade dog food recipes for small dogs. You just need to blend the ingredients in a bowl then it is ready to be served to your dog.
7- Doggy Peanut And Fish Cookies Recipe
These delicious cookies will make your dog jump from joy, from only smelling it! It is so tasty that you want to try it yourself.
1 ¾ cups of water
1 Tbsp of honey
½ Tbsp of fish oil
1 cup of rolled oats
2 cups of flour
½ cup of peanut butter
Preparation:
Preheat the oven to 350° F. First, mix the flour and the rolled oat together in a large bowl. Start pouring only 1 cup of the water slowly and blend until the mix is smooth. Add the other ingredients and mix them. After that, start adding the rest of the water while mixing it slowly.
Cut into dog paw shapes by using a dog cookie cutter set and then use nonstick spray (aff link) to grease it. Add the mix into the pan and then bake it for 35-45 minutes.
Homemade Dog Food Recipes For Small Dogs – Are They Good For You?
Remember that puppies must eat the same food as adult dogs. On the other hand, they need to eat more regularly and/or adapted to their age.
Also, remember that your puppy's diet should be very varied and complete. For this, you can use any type of meat, fish, and vegetables. You can also supplement its diet with food supplements for puppies. If you notice a health problem, particularly vomiting or diarrhea, go immediately to the veterinarian.
You'll Also Love These Posts:

Studies have shown if you like this blog article — you will also love the following posts.