If you are the same as me, you must always be worried about your dog when you have to leave your dog at home alone! Fortunately, modern technology has changed our life to the best. Before, you have to wonder what your dog is doing alone there!
BUT NOW!
Last Updated On February 21th, 2020.
You can check and track your dog anywhere by using your smartphone. Not only this, but you can also watch and speak to your dog anytime and anywhere. Also, some of these techs give you even more options like treat tossing with 1-click.
Keep an eye on your pet is a great thing that happened to me, and so many people out there. It is a way, in my opinion, to prevent our pets from feeling bored and maybe depression from you being away most of the day.
Therefore, I want today to present one of the best tools you can have now for your dog (Furbo dog camera).
Few Words About Furbo The Dog Camera
Before I start talking about Furbo dog camera pros and cons, there are a few things I want you to know about it.
Furbo dog camera is not just a camera; it also enables you with a great option, which is to 

toss treats

 to your dog by pushing a button on your smartphone's app.

One of the great options I found about the Furbo dog camera that it is equipped with 

night vision

 as well as 

1080 HD video

 and 

two-way audio.

 

The Furbo dog camera has an indicator 

light that changes colors

 to attract your dog's attention. Also, it has a 

clicker feature

 to help you 

train your dog

 and 

reinforce obedience.

The Furbo dog camera was designed with dog owners in mind, giving them flexibility and the 

ability to check on their dogs

 anytime and anywhere. 
The Overview and Ranking
Furbo dog camera comes with many features, the following are some of the ratings I believe are important to know about this device. Also, the company offers 1-Year Warranty & 30-Day Money Back | Lifetime Warranty with an annual Furbo Dog Nanny Subscription. With the money-back guarantee, I felt safe to buy it and try it.
Brand Name: Furbo
Number of Rating on Amazon: 9,070 ratings. Our Rating (4.9 out of 5)
Value for money: 4.8 out of 5
Picture quality: 4.5 out of 5
Motion detection: 4.6 out of 5
Night vision: 4.6 out of 5
Easy to install: 4.8 out of 5
Customers satisfaction: 4.8 out of 5
Easy to use: 4.8 out of 5
I want also to say, it is amazing and trustworthy to buy this device after I watched the episode of Ellen show where they introduced this device. You can watch it here!
Furbo The Dog Camera Design
The experts behind the Furbo dog camera designed it to blends into any room. They also made the design to be smooth and dog-friendly. The gadget is nine inches tall, and it has a modern look (looks like an hourglass in shape). 
You will also notice the large bamboo lid at the top of the gadget, and that's the cover to a small reservoir where the dog treats are stored.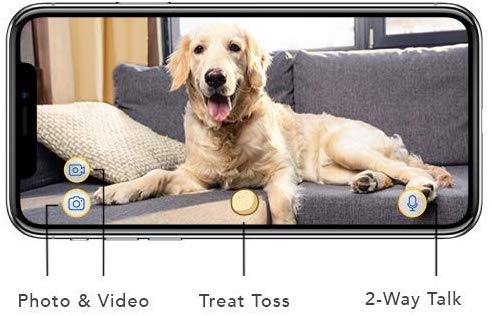 However, make no mistake, if you think this camera is a tool to interact with your dog. Your dog thinks of it as a cookie Jar! The material they used to build this camera is durable and functional, but it is not that strong if you have a big dog that likes to chew everything. That's why I would suggest to keep it in a place safe from your dog's teeth!
BUT…
Don't worry, so many dogs tried to scratch and chew the camera, and nothing happened to it. In fact, it was so strong and durable against that. But in my opinion, it is always to have countermeasures than be sorry later. Right!?
Your dog will love Furbo right away. However, it is best to sit with your dog and Furbo together and get your dog to be familiar with this new "addition" to the house. Take your time and teach your dog to love this device. 
Start by letting your dog smell it before adding the treats inside of it. Then you can start with launching the treats from it, make your dog listen to all the noises and sounds the device may make, so your dog could get used to it. 
Also, you can customize the sound and the colors for your dog; if your dog, for example, afraid of a particular sound, you can know that immediately and personalize it accordingly. Another cool option is that you can save a specific phrase that you may say to your dog all the time and make Furbo say it too. It is easy to set up and easy to use.
It is a lot of fun to use this device; in fact, most people now use for entertainment and play with their dog kind of thing even while they are far away. Isn't that a cool thing to have?
Safe For Your Dog
Some dog owners may wonder if this Furbo is safe for their dogs. It is completely understandable. Our pets are our family, they are part of us and our life. We should always make sure they are healthy and happy enjoying their life with us.
Furbo is made to be a dog-proof and safe from any situation your dog may induce. Furbo is popular among other devices for a reason. The experts behind this cool device did their research and experiment over the years to make sure to give the best outcome for you and your dog. 
Now, I believe there is nothing in our world is perfect. However, we can decide which is perfect for use in our own terms. Owning a pet for me is perfect and the best thing could happen to me. 
As you may or may not know, the company used various breeds of dogs with different sizes and temper to test the device before they sell it.
Pros For The Furbo Dog Camera
Easy to set up and easy to use

– It is easy to set up Furbo and connect it with your smartphone app. It is also designed to send real-time push notifications and alerts.

The ability to view your dog at night with its amazing 

night vision

. With this option, you can view video and hear audio day and night anywhere anytime.

The ability to 

toss treats

 is the best option in this device for me. It is not only for you to view and hear your dog, but also to give a good dog a good treat!

Furbo gives you the 

ability to train your dog and teach your dog obedience

 by using its option we mention above "tossing treats".

Specially designed for dogs and dog owners putting in mind to keep Furbo 

safe for your dog

 and gives you the best experience.
Cons For The Furbo Dog Camera
The Audio for me was good enough. However, some customer finds the audio capability weak. Both microphones and speakers could be of higher quality, but I believe they are good enough.

Furbo is durable and strong. However, I think it may not withstand heavy chewing. Picking a good place to ensure its stability and teach your dog to not knocks it onto the floor is a good thing to do.

The bark alert is awesome but it could be oversensitive sometimes. It can be a good thing for you. Also, you can always turn off the push notification if it becomes too annoying with too frequent notifications. 

Treat tossing is a great option as you may already conclude. However, it can shoot as many as 5 treats at once. So, it is always the best to use low-calorie treats or use different treats as you may see fit for your dog.
Conclusion
There are many other cameras with the same function as Furbo, which I will write reviews about later on. Unlike some of these devices, Furbo offers great functions and options any dog owner would love. 
With the Furbo device, it is now easier to spend time with your dog, check on your dog and even play or train your dog while you are away from home.
Grab your Furbo and try it. Remember they offer a 1-Year Warranty & 30-Day Money Back | Lifetime Warranty with an annual Furbo Dog Nanny Subscription. You will not lose anything from trying this great device! I loved it and so many loved this device.
Are you going to love this device? Try it now and let us know what you think about it. Feel free to write your opinion, comment or question down in the comment section!
Disclaimer:
Please note, this review has been researched with information and/or testimonials that are available online in the public domain as well as my personal experience and research. Any recommendations and/or conclusions are strictly opinions and may not apply to, or agree with, all persons or situations. See full disclaimer for more info.

 

This page includes affiliate links. Please be aware we only promote advertising from companies that we feel we can legitimately recommend to our readers. Please see our Affiliate Disclosure for further information.
Easy to install & Easy to use
4.8/5
Picture & Audio quality
4.5/5
Pros
Easy to use & easy to set up
Night vision
Tossing treats
Safe for dogs
Ability to train dogs
Cons
May not withstand heavy chewing
The bark alert is oversensitive sometimes
Toss up to 5 treats