Today I want in this post to give my honest, insightful, and thorough one of Brain Health Supplements AstroSmart, a review that supports dogs' mental health. Nowadays, our bodies, as humans and pets, need supplements to help our bodies from lacking specific vitamins or minerals. But that does not mean we should depend on them; we should always fix our pets' diet.
When the dogs are young (Puppies), they have limitless energy, and they need to play and do exercises all the time non-stop. But once they start growing up, they lose this amount of energy the same as us, Humans. And then you will begin to notice by the time pass that your dog was missing its regular activity when it was a puppy. It can be emotional to watch your dog have these profound changes over the years and the struggle of aging and all that comes with it.
Before I start my review, I want to write briefly what is AstroSmart and how it can help your dog by making it feel young again.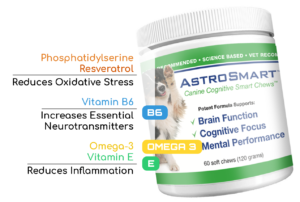 AstroSmart – Smart Chews for Smart Dogs
AstroSmart is a product from a company called Astro Biosciences; it is a Canine Cognitive Chews designed as a Brain Health Supplements to support the dog's brain function, focus, and mental performance in general. According to the many testimonials on their site, these chews can do it.
"Our dogs show us incredible love, and now we can show them we love them too," President of Astro Biosciences Marcus W. Corwin stated."Your dog is an important member of your family and you always want the best for their health and happiness. But just like humans, as they age they experience a decline in both physical and mental health. You give your dog supplements for their hips, joints, and heart, now it's time to protect and improve their brain health."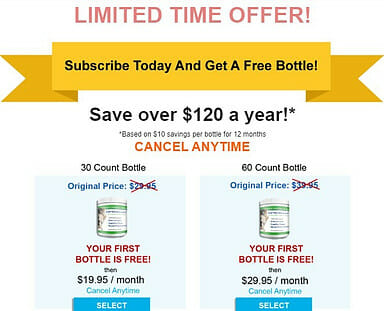 The Overview and Ranking
Name of the Product: AstroSmart
Owners: Astro Biosciences
Price: $19.95/m, 30 count bottle, $29.95/m, 60 count bottle.
Discounts: First Bottle Free, $10 Discount for each month ( Save $120 a year). 30-day Money-Back Guarantee Just pays shipping and handling.
My Rating: 4.8 out of 5.0
Dr. Lisa Radosta Recommends the Ingredients in AstroSmart
Dr. Lisa Radosta One of only 69 Board Certified Veterinary Behaviorists in the United States. She's graduated from the University of Florida – College of Veterinary Medicine. An author & International lecturer.
In other words, Dr. Lisa is an expert that can be trusted. For this reason, I put my trust in this product to even suggest it to my friend's dog.
"I thought about the ingredients that were important to the ageing brain", said Dr Lisa Radosta, DVM, DACVB, a Board Certified Veterinary Behaviorist. "All of these ingredients are in AstroSmart ™."

 

[embedyt] https://www.youtube.com/watch?v=GNU5o-fW_Yo[/embedyt]
AstroSmart – Active Ingredients
The active ingredients inside AstroSmart include Omega 3s, Vitamin E, Vitamin B6, Resveratrol as well as Phosphatidylserine. Because these active ingredients help your dog by reducing oxidative stress, increase essential neurotransmitters and reduce inflammation, these ingredients can be the key to improve their health, which is why they called too "Brain Health Supplements". AstroSmart Chews are easy to digest and taste like a treat, which is lovely for dogs.
My Opinion About AstroSmart
of course, so many of us take vitamins every day to support various things in our bodies, so it is logical to give our dogs such supplements to support their bodies and keep them healthy, happy and active to play and exercise. But Make sure not to provide them with overdose, and please always follow experts' guidelines and doses prescription.
As a matter of fact, I find this product worth to try, and I already recommended it to my closest friend's dog as it has some problems due to aging and Knowing that it's backed up by a vet makes the product trustworthy in my opinion:
"I thought about the ingredients that were important to the ageing brain", said Dr Lisa Radosta, DVM, DACVB, a Board Certified Veterinary Behaviorist. "All of these ingredients are in AstroSmart ™."
ASTROSMART – Doses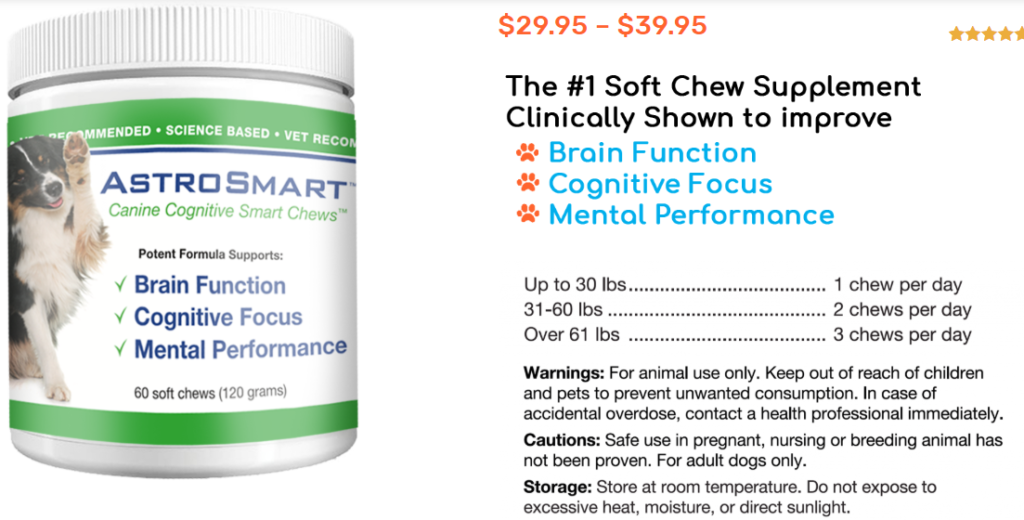 Pets and Their Owners love ASTROSMART. Real People, Dogs, and Results!
Click on these Photos to watch testimonials from these people:
Conclusion
In conclusion, the product is trusted by experts as well as real people tried it already and saw its effect on their beloved dogs. Besides, I believed it after I did enough research to be able to find all the information provided here. Brain Health Supplements to Support Dogs Mental Health by Astrosmart can be the key to a dog's happiness.
Ultimately, I hope you enjoyed this review and found what you need for your dog here. If you have a question about AstroSmart or Brain Health Supplements in general or want to leave your own personal review about the product, leave a comment below.
You'll Also Love These Posts:
Studies have shown if you like this blog article — you will also love the following posts.
Cat and Health – The Impact of Cat's Health Guide on Our Life!
Pet And Healthcare – Improve Pet Health, Improve Your Health
Disclaimer:
Please note, this review has been researched with information and/or testimonials that are available online in the public domain as well as my personal experience. Any recommendations and/or conclusions are strictly opinions and may not apply to, or agree with, all persons or situations. See full disclaimer for more info.

 

This page includes affiliate links. Please be aware we only promote advertising from companies that we feel we can legitimately recommend to our readers. Please see our Affiliate Disclosure for further information.
Mohammad
Founder of Fluffy Health & Life